14 February
Building a talent pipeline designed for a competitive edge
Every organisation, irrespective of industry, has something to gain from talent pipelining. However, it is critical for those experiencing protracted talent shortages trapped in a cycle of posting vacancies now and sourcing later.

Australia is experiencing a tight labour market that has caused a widespread shortage of skills and talent. Hence, talent teams must take ownership of shoring up access to essential skills.

For the penultimate article in our Redefining Talent Series, we discuss what it takes to build a talent pipeline proactively with a competitive edge.
Proactivity trumps reactivity
Results of the National Skills Commission's 2022 report on job shortages have confirmed the job categories with the shortest supply: trade workers and professional occupations, such as health workers, educators and scientific roles. These knowledge workers represent "the fastest growing industries in Australia". Skill shortages will get out of hand should supply continually fall short of demand.

The competition for talent remains fierce. Currently, one-quarter of professional vacancies stay open due to potential hires accepting opportunities for the same role elsewhere. Shockingly, in response to unfilled vacancies, Australian organisations' most popular recruitment tactic was to continue advertising in the same place. When Talent Acquisition (TA) opts to 'watch and wait', time to fill increases and talent availability decreases in tandem.

Don't risk giving away talent to the competition. We argue reactivity should replace a long-term view over hiring requirements by building a pipeline of pre-qualified prospective candidates. Dedicating time to lay the groundwork upfront can help place TA back in the driver's seat of their programs.
How to build a talent pipeline, today
A talent acquisition pipeline can pay big dividends—financial, performance and strategic—while fuelling future efforts. To reach this end, TA must proactively plan its way there.

Identify mission-critical roles

Not all roles are created equal. Identifying and agreeing on the organisation's critical roles is not an isolated activity—it must engage the business. Do this in partnership with other leaders and key stakeholders and in line with business objectives. This process must also consider the current supply and demand of skills within the organisation, in Australia and globally.

To determine which roles should be pipelined and prioritised, use Harrier's Scarcity versus Criticality Matrix. Judge each role on its degree of sourcing difficulty against the level of value they bring. Roles that overlap on 'very scarce' and 'high criticality' are crucial for success.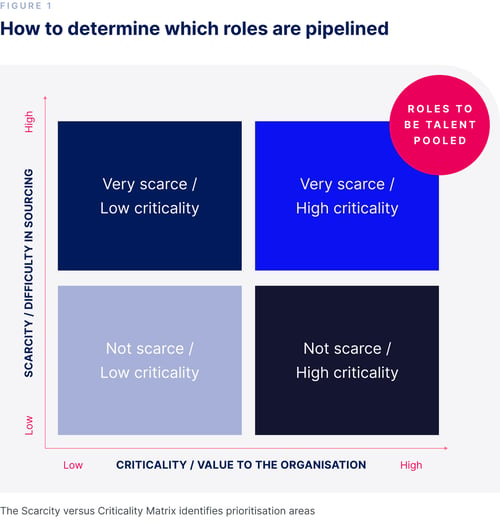 Next step: Focus on filling the roles that require scarce specialised skills or knowledge and are integral to driving competitive advantage long-term.
Sharpen the EVP strategy

It is no secret organisations are trying to outbid one another for candidates with the skills enabling performance and profitability.

Nowadays, talent teams believe recruitment isn't dissimilar to marketing. The most desirable employer brands, and the leaders behind them, attract, engage and retain talent by promoting compelling employer value propositions (EVP). Candidates are extremely responsive to well-crafted EVPs, as evidenced by 92 percent of people stating they would consider switching employers if offered a role from a company with a positive reputation.

Knowing this, the talent pipeline must flow from two core pillars: organisational strategy, plus, the EVP and brand.

But to articulate an authentic EVP, leaders must be able to answer these fundamental yet critical questions:
What makes this a great place to work?
What is our business vision and purpose?
What types of skills do we need to deliver on this vision and purpose?
What resources do we offer to develop skills and talent?
What is the positive impact people can expect to make?
Next step: Create or refine a sustained reason for talent to want to join, stay and grow—focusing on company purpose and impact first and financial rewards second.
Harness recruitment system data

When going to great lengths to establish a talent acquisition pipeline, the tech stack cannot be overlooked.

Applicant Tracking Systems (ATSs) have traditionally been the tool of choice to manage active candidates. Now a new wave of recruitment systems is replacing outdated ATS, helping talent teams proactively engage candidates throughout the process—shaping a positive hiring experience. CRMs are also integrating with or, in some cases, replacing ATS as an enabler of segmentation and multi-channel marketing.

To fully harness data, hail the tech stack as the only source of truth and let data inform TA's activities (and adjustments). Measure their success by tracking the most important recruitment metrics, whether overall pipeline health, pipeline progress, ROI, NPS or other relevant KPIs tied to objectives. Then, leverage data for the next move.

Next step: Make tech central to talent pipelining to ensure it supports intelligence-led goal-setting and decision-making.
Taking action
Though every successful organisation must be proactive with its talent pipeline, it isn't a one-size-fits-all approach, nor should it be. Mission critical roles, the EVP and recruitment systems must reflect and evolve with your organisational strategy. Yet one thing holds: the importance of a long-term view over hiring requirements. Do yourself a favour: take action today, and your team will be positioned to win the war on talent.