24 January
Why total talent management delivers a sustainable advantage
One-dimensional workforces are long a thing of the past.
Instead, workforces are now a blend of permanent workers, temps, contractors, freelancers and external consultants. Add 'distributed' and 'hybrid' to the blended workforce, and strategic workforce planning becomes increasingly complex.
In our previous article in this six-series, we discussed the key challenges for People & Culture's talent strategy, presenting an opportunity for leaders to steward organisational change.
Here, we will explore a sustainable approach to strategic workforce planning able to provide organisations with a competitive edge.
Where to start with strategic workforce planning?
Strategic workforce planning encompasses a broad spectrum of activities to leverage the right talent at the right moment.
There are endless accountabilities for leaders. Try to deliver on them, and talent needs suddenly appear to shift in new directions. It's easy to think workforce planning is too great a beast to handle.
Every People & Culture leader should do their best to craft an effective plan in alignment with the organisation's strategic direction. Whether that plan works is something worth testing.
Below are some questions for a quick pulse check of the existing strategic workforce plan. The answers should be intuitive.
First, is the workforce plan working as intended?
When was the last time it was assessed?
How well is the strategy delivering against objectives?
Is it closely aligned with current internal needs?
Are emerging workforce trends a consideration, and how are they being integrated?
What gaps must be addressed urgently?

Reflecting on the prompts above might draw out some follow-up questions, like where to start with improvements. However, insights without action won't lead to an effective workforce strategy. The most successful leaders move in step with market demands and adopt a more holistic approach: total talent management.
What exactly is total talent management?
Total talent management provides a single, integrated strategy for identifying, attracting, developing and retaining people.
Leaders are empowered to equip themselves with full visibility over the skills and talent inside the organisation and those within external talent pools. In other words, total talent management takes advantage of the entire talent spectrum. It's a scalable and dynamic model, allowing swift response to fluctuating skill and talent demand. Below are the elements to consider when developing the strategy.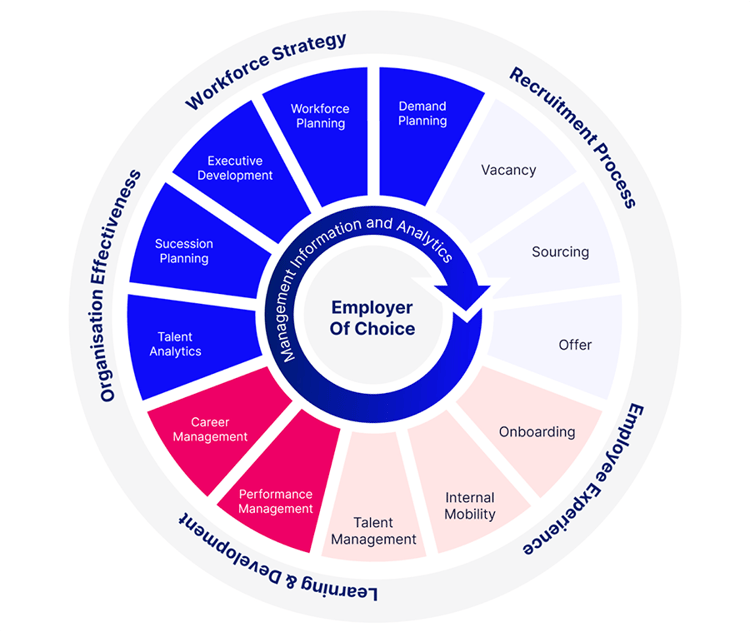 To make workforce design more dynamic, leaders are tapping into on-demand talent pools residing outside the organisation. 70 percent of business executives worldwide have said their companies plan to hire more temporary workers and freelancers (than before the pandemic), says a recent McKinsey & Company survey. The same research discovered 90 per cent of People & Culture leaders are concerned that the skills they are hiring for today, particularly in technical roles, will soon be outdated.
Total talent management is therefore urgent and important. Given the increased competition in sourcing the right skills and talent, a more holistic approach will help organisations better leverage their workforce.
How does total talent management benefit organisations?
People & Culture leaders are presented with an exciting opportunity to communicate the business case for total talent management. By adopting this approach, the organisation can sustain its edge in a hyper-competitive environment:
Increase talent visibility
Reactive recruitment makes it difficult to scale or rightsize talent, especially when workers are required on short notice. Conversely, increased visibility helps inform proactive talent acquisition.
Acquire the ideal talent mix
Organisations are able to hire a flexible contingent workforce on-demand to supplement their core talent. They can also grow and develop a stable permanent team with the right skill sets.
Reduce costs-per-hire and time-to-hire
Cost minimisation won't stop there. Costs can be reduced further by high worker retention and reduced turnover. Less time spent on talent acquisition means team members are freed up to work on high-value strategic tasks.
Minimise disruption
Unexpected departures can hamper or put an outright stop to tasks or projects. Talent gaps are anticipated and filled to reduce the impact on the business and sourcing requirements.
Lock down a sustainable talent strategy
Ultimately, People & Culture can attract and retain a more engaged, productive and reliable workforce. They will once more prove themselves to be instrumental in influencing the business' success.
Total talent management as a workforce strategy
Total talent management will help deliver a sustainable competitive advantage, provided the fundamentals are covered. Leaders will best place their organisations when they consider every strategic aspect: workforce planning, recruitment process optimisation, EVP and employee experience, learning and development programs, and how these come together to drive organisational effectiveness.
The journey toward total talent management should be a long-term objective, not a quick fix. Though it may take a few years to realise your ideal future state, the benefits are likely to be seen and felt much sooner. Success is achievable so long as you take charge.
In the following posts, we will provide practical advice for improving talent management, starting with how to audit your talent ecosystem.