2 June
Talent Tech Teardown: Video Interviewing
Between online meetings for work or social events and the increased Netflix consumption after hours, it's fair to say that, like most, my screen time is at an all-time high. However, while we are all are adapting well to connecting with people online, I've spoken with several organisations that are still struggling with how to make this work when interviewing prospective candidates.
Given how rapidly the COVID-19 situation has evolved, talent teams have been left scrambling for solutions and several that I have spoken to are using internal online meeting tools to replace face-to-face interviews with candidates. But is this the right approach?
Over the last few years, video interviewing platforms have become increasingly popular as a way to streamline the recruitment process and give candidates an opportunity to showcase their skills and personality beyond what a resume allows. Often used as one of the first screening steps, they also enable remote hiring managers and candidates to connect, and can support more creative and engaging interview processes – imagine a sales director pitching a new product, for example.
Benefits of video interviewing include:
All candidates answer the same questions and have equal time to consider their responses. The experience is consistent and equitable.
Much more than a Q&A session, contemporary video interview platforms offer interactive whiteboard capability, integrated assessment tools and other tools that allow recruiters to develop unique interview experiences.
Candidates are sent a link with all the instructions they need and can complete their interview in a time and location that works for them. There is no juggling of schedules, time zones, travel or room availability.
Hiring managers can review all candidates at the same time, helping to make like-for-like assessments for each question, or to skip back and re-review specific responses. Notes can be shared with HR or other stakeholders where panel interviews are required.
Several platforms offer sophisticated reporting tools, AI-based rankings and sorting capability to help talent teams and hiring managers make quick, informed and bias-free decisions. Let's breakdown what you should consider when deciding which tools and features you need to deliver a high-quality and efficient virtual recruitment experience for your candidates and hiring managers.
One of the key features of video interview platforms is the capability for interviews to be recorded at a time that suits, with the candidate responding on video to a set of on-screen questions or tasks. As mentioned above, this several benefits in terms of cost, efficiency, and fairness.
A live video interview would be one where the candidate and hiring manager or interview panel talk to each other in real-time, using more traditional technology such as Skype, Zoom or Teams. These interviews can be recorded, but most platforms in this space don't provide any other benefits aside from avoiding the face-to-face, physical interaction.
Some video interview platforms like ModernHire support both types of interviews, others specialise in either live or pre-recorded interviews, so it's important to understand what is on offer before committing.
For this conversation, I'll assume that COVID-19 has helped most people become regular users of live virtual meetings, so I'll outline what to look for when considering pre-recorded video as part of your interview process.
1. Question Selection
Video interview platforms offer a range of different question types that you can use to create an interview. To ensure you select the right platform to meet your needs, consider the roles that you recruit for and what types of questions you ask prospective employees; what skills do your candidates need to showcase, and how can you best communicate your organisation's unique selling points?
Text questions display a written question on the screen and can also be used to provide multiple-choice answers to select from

Picture questions can provide an image for analysis or interpretation, or to give visual support to guide answers

Video questions allow you to film your hiring manager asking a question or posing a problem, or could be used to give candidates an insight into a role, such as a recent graduate hire talking about their experience and asking a question for this year's graduate campaign.
Text questions can be useful but platforms like Alcami, that place a big focus on video questions, give you a chance to promote your employee value proposition through engaging content and by showcasing some of your organisation's talent.
If you are new to video interviews, look for a vendor who will support you with tried and tested questions to get you started. Some platforms offer a preloaded bank of competency-based questions, and others will review you current interview process and make suggestions on how to recreate it in an engaging virtual format. This can save valuable time and give you a chance to trial best-practice virtual interview techniques with minimal risk.
2. The Platform Experience
A video interviewing assessment generally follows a standard process. I've broken the steps down for you below with some lovely images from our friends at Alcami: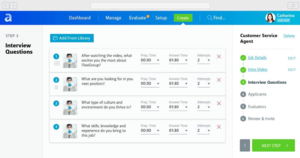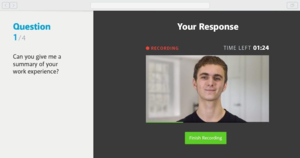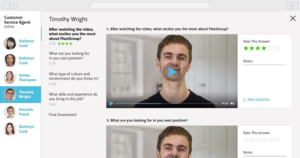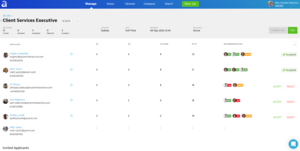 3. Rating Options
Once the candidate has completed their video interview, the recruiter and/or hiring manager is able to view it, assess the candidate and provide feedback. To help you decide which platform will support your recruitment process, consider the following:
Does it utilise score-based ratings, text-based feedback, or both?

Can you group scores into competencies and have overall ratings?

Can multiple people provide scores and feedback on the same candidate?

What is the output once everybody has rated the candidate?

Does the platform support communications back to the candidate, and if so, can they be customised?
It's also important to consider the hiring manager experience. Some platforms require the reviewer to login to an online system to provide feedback, while others can also share a one-time link. The latter is helpful if your hiring manager doesn't recruit often and is unlikely to remember a password and login, or how to participate in an online review process. Make sure that the process for your reviewers is clear and simple, so they can fairly rate candidates against using the required scoring or evaluation process in a timely manner.
4. Anonymisation
For many organisations, ensuring a fair and bias-free process is critical to their talent and broader business strategies. A number of platforms offer options that support anonymized recruiting, this may include hiding the video, hiding candidate details, or using voice-disguise technology.
This technology can be great for removing bias at the initial screening stages, but needs to be carefully evaluated against the video interview core benefit of showcasing a candidates personality and communication style, which can be a critical aspect of a role.
5. Assessment Centres
One of the key challenges organisations have sought advice from me about is how to pivot a recruitment process that uses assessment centres to a virtual format. Video interviewing doesn't scale well to support assessment centres where talent teams score performance across a combination of group and individual activities, or where several hiring manager interviews may take place. The virtual assessment center can be achieved, but it needs some careful design!
Consider breaking out the group-based components from individual assessments, and house them as separate virtual sessions. This will require some careful scheduling, but no more than a face-to-face assessment centre would require.
Assessment provider Sova addresses this issue with its "Digital Assessment Centre" offering which allows you to schedule a mix of group activities, online assessments and video interviews with assessors all through a single platform. This makes the experience easier to manage for the recruitment team, while also streamlining multiple activities for a candidate into a single session.
6. Integration
As with any good complementary technology platform, an integration can help embed the technology within your existing recruitment process. An integration with your Applicant Tracking System (ATS) will allow you to invite candidates to your video interviewing assessment in bulk, and send scores and feedback back to the ATS once the review and rating is complete. Reporting may be more comprehensive in the video interviewing platform, but this integration avoids any "user errors" caused by the manual transfer of data between two systems.
It is still possible to use a video interviewing platform without an integration and many organisations do this due to prohibitive integration fees charged by some ATS providers. Without the integration, your team will need to log into your video interview platform separately to launch a video assessment once a candidate hits a certain step in your ATS. Once the interview has been completed and scored, your team will need to consolidate feedback into your ATS.
Whatever process works for you, the key is making sure that the responsibilities of the team are clear and that any hand-off points for technology and communications are accurately mapped and checked so that no applicants get lost between systems.
Final Thoughts
It can be tempting to jump on recruitment technology as a quick fix, or as a holy grail to transform your recruitment process. It's important to take the time to evaluate whether video interviewing will add value to your recruitment process. For example, make sure your decision to cut down on administration time isn't at the expense of candidate experience, and consider if broader talent objectives such as diversity and employer brand development are supported by the video interview process.
An interview is often the first chance a candidate has to really learn about your organisation - make sure you leave a positive and lasting impression!
More on talent technology...
GET STARTED
Find out how a Harrier partnership can bring the best out of your business.